December 12, 2017




Day 12 - Stuff My Stocking

So here it is, the day the Sled Quilt gets sent over to Mrs. Clause to ensure that Santa has it for his Christmas travels across the skies. Elf Quilt it put together a special package for Mrs. Clause to ensure the quilt is taken care of upon it's return. She puts together some "SOAK" which is perfect for handmade quilts. She knows that the sled quilt may get sticky from candy and homemade treats or wet from snow and it may need a little additional care upon it's return. She also includes a "Quilt Safe". This is a new product made from a breathable fiber with a card holder so that you can easily identify what's inside. Making all the easier to locate next year!


SOAK WASH Singles
4-Packets for Single Washes
Regularly: $4.40 Now Just: $ 3.00



oak is a pure, gentle and deliciously scented way to wash the delicate items you care about most. This rinse-free formulation is perfect for washing your laciest lingerie, your softest sweaters, hand-made quilts and even baby clothes. Soak is designed with fabric-friendly ingredients that revitalize fibers so they look great and last longer. Soak is safe for both hand and machine washing. Use Soak on lingerie, swimwear, knits, quilts, workout wear, dance wear and all the stuff you love most! Hand wash 1 tsp in 1 gal cool water and soak for 15 minutes. Biodegradable, phosphate-free, dye-free.








Wrapped and Ready!
Make it easy on your loved ones and get what you really want for Christmas! We have great deals on gifts that will delight any quilter. They are wrapped and ready to put under the tree! Unlike, "Stuff My Stocking" these deals are good until December 21st or while supplies last. - Sorry No Rainchecks!

(Don't forget our Buy on-line - Pick up in store option, then you can pick up with your "Stuff My Stocking" items. )


QuiltSAFE Storage Bag
Regularly: $12.99 Now Just $10.99

This breathable storage solution will provide protection for your valuable heirloom quilts, blankets, and other linens during the off season or when traveling. A customization card holder is located on the face of the bag to offer easy recognition without opening the bag. Made from a highly breathable, non-woven fiber and finished with a non-snagging zip closure and carry handles.
Approximate size: 22-1/2in wide x 15-1/2in deep x 5in high.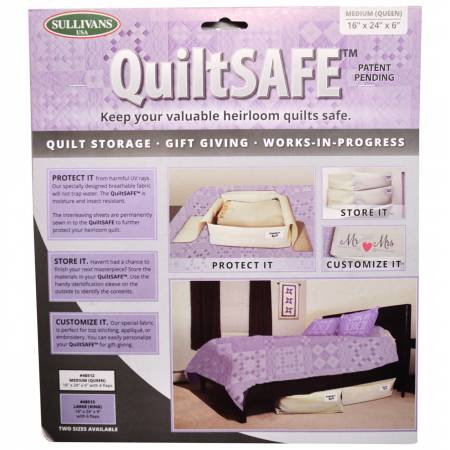 Happy Quilting! - Amy