September 5, 2017

i hope everyone had a wonderful and safe Holiday weekend with family and friends. We certainly could not have asked for better weather - it was beautiful!

We have alot going on this month - starting this week. Please go to our website, "Classes" to see a full line of classes we have to offer. Nancy Troyer from Kansas City is joining us at the end of the month for "Cleaning and Maintenance of your Featherweight Sewing Machine!" You won't believe how easy it is to take care of this machine to keep it in good running condition for years to come. You won't want to miss the opportunity to listen to Nancy's stories and history of the machines along with getting a full day of her expertise!

Also, Save the date for the Jelly Roll Event day, including the Jelly Roll Race for a chance to win a finished quilt with your Jelly Roll - (Yes, we have some available in the store also if you still can't bare to cut up the beautiful roll that's sitting on your shelf. Football season is starting and this could be an excellent throw for the games. We have 2.5" strips for Mizzou and Chiefs colors! Put a little Shannon Cuddle on the back and you have a great Game Time wrap!

Have a great week!


Just In!

Patterns for the Holidays!


Jelly Roll Rainbow - by Laurel Burch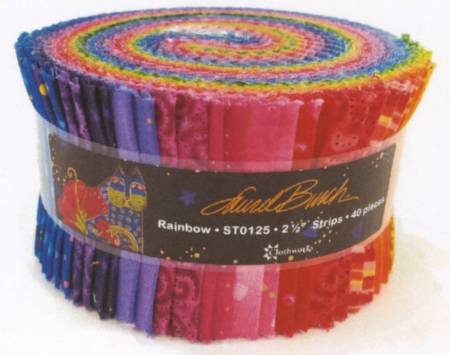 #1 Fan
Essential Gems - 2.5" Strips
CLASSES!
Trim the Tree
Each Thursday September 1-4pm $20
Begins Thursday Sept 7



Block Party - Quilted No Sew Ornament!
Friday Sept 8, 9a-3pm $11.50




Block of the Month - Sew-In
Join us to work on any unfinished projects!
Saturday, Sept 9th 9am - 2pm



Curvy Log Cabin Trim Tool Demo!
Monday, Sept. 11 10am - Free

Roundabout Table Runner!
using the Curvy Log Cabin Trim Tool
Monday Sept 11, 11a - 3pm



National Sew A Jelly Roll Day
Saturday Sept 16 9am - 3pm
Food, Demos, Show and Tell
Discounts- $5
Jelly Roll Race $15

Happy Quilting! - Amy