August 31, 2017


Note: We will be open Saturday this weekend but Closed on Monday for observance of Labor Day!
Happy Labor Day to Everyone! Labor Day saddens me a little. As Memorial Day signifies the opening of the Lake Season - Labor Day means the end of the Lake Season. What we have to look forward to is FALL. Yay! All the festivals and crisp leaves whirling in the air on a light breeze - I can picture it -can you? Oranges and Browns with a hint of purple are all going to be here soon surrounding us. We have an upcoming class that will bring those leaves to life in your home - Look for it in October!

For those of you that just signed up for my newsletter - I don't usually send out multiples in one week - but we have so many exciting things going on right now and I don't want you to miss out on one thing.

Thinking of Labor Day, How ironic that in honoring the American Labor Movement and the contributions of workers that have strengthened our Country -
We are announcing a new instructor here at City's Edge,

Introducing: Lois Nordyke:
We are SO excited to have Lois join our team. We have been in touch it seems for at least a year as she was building and preparing her move to our area. With the introduction of Janome Sewing Machines, Lois comes to us with a Janome background, Specializing in Machine Embroidery. Lois has a teaching background and after her retirement she went to work for a Janome Dealer/Quilt Shop in Quincy Illinois where she worked for 5 plus years continuing her love for teaching in the sewing/embroidery areas of education. Lois began sewing as a teenager and has experience with machine embroidery, free-motion quilting, piecing, applique and loves anything sewing-related. She is looking forward to teaching classes and getting to know the sewers in the area. We will start her off slow with just a few classes - but rest assured - you are going to see a robust class selection from Lois and now have another resource for expert answers to your questions!.

If you haven't been to City's Edge lately, we have grown significantly over the past 2 years and you might just want to come and see what's new.
* Quilt Shop offering quality Fabrics, Notions and Supplies
* Janome Sewing Machines, Supplies and Repair/Maintenance
*Longarm Quilting Service and Supplies for the areas Longarm Quilters
*Classes and Workshops
*Future: Full line of Machine Embroidery Supplies and Classes.



Let us help you get creative!!



September Classes by Lois

/classes.htm
Click here for full line of classes on our website or inquire in store

Sew a Pillow! - Lois Nordyke Sept 25, $25
Multi-class session
Sew a Pillow? What? It's So much more than that!
You have your sewing machine and you bought it for all the features it has - but...
you only use the straight stitch and zigzag. It can do sooooo much more!!!!
Create this great pillow and learn all that those extra feet can do and what about all those decorative stitches that came with your machine? Have you even made a button hole?
It's time to look at your machine in a whole new light!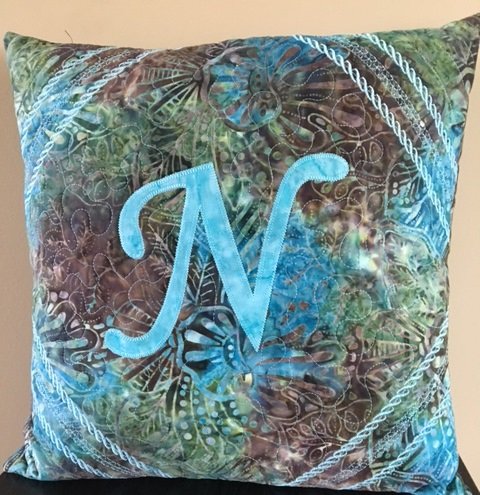 That's Sew Chenille - In the Hoop!

Lois Nordyke - Sept 18, 2-4pm $20
Make these cute hot pads with your embroidery machine - In the Hoop!
Cute and Simple! 6 Dsigns to choose from in 5 sizes.



Sweet Feet - In the Hoop


Lois Nordyke - Sept 18, 10a- 2n or Oct 9, 2-4p $20



Give yourself some "M.E. Time!" (Machine Embroidery Time!) with a new series of embroidery projects by Kimberbell Designs. This in-the-hoop "sweet feet" project is perfect for any Christmas or Halloween holiday display or as a gift to give!

Machine Quilting - Intermediate
Lois Nordyke - TBD







National Sew A Jelly Roll Day - Event!!




Check out the Website or Inquire at the store. - Full Day Event!


We will be introducing the

New Janome 6700

- the Fastest Machine at 1200 Stitches per Minute! Nancy's going to Race - Who's Going to beat her??
(she doesn't qualify for prizes - Sorry Nancy)

Happy Quilting! - Amy