Christmas in July
As hot has it's been it is hard to think about Christmas and Holiday projects but now is the time to get started and we are kicking off a few events to help you get started. Join us for one or more of our fun events to help you get motivated. Join Joann on Thursdays for the next two months to create a beautiful sampler quilt with fabrics from MODA 3 Sisters (kit available) or use your own fabrics and colorway. Join Amy for a Quilt As You Go table runner, or Block Party for a No Sew Ornament and a Quick Pieced Stocking. We are going to have our first Cookie Exchange and make an Apron with Cookie Exchange Fabrics. Get your recipes in order now. Maybe join our Sew In's this month to make a quick Christmas Stocking for the Christmas for Kids of Benton County Charity Event. We have lots going on - Don't miss out.

Fourth of July was overcast and a little rainy but that didn't keep people from coming in to see us. We had several visitors on our front porch - a few past friends revisiting and some new ones joining us for the first time.
Did You Know?
We have 15% off backing fabrics when purchased with a kit? This includes Widebacks.

New In Store!
64 Bolts of Color added to our Color Wall!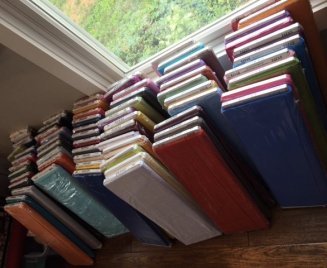 Kits Now Available!

Join Joann on Thursdays to make this quilt top!
Arctic Antics - Flannel Kit 48" x 68"